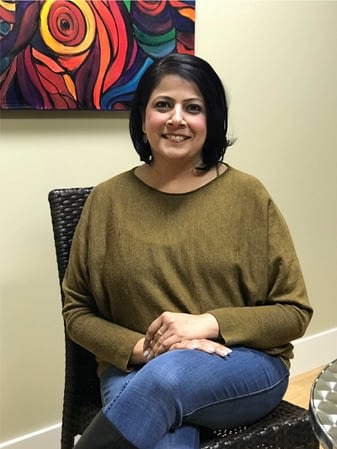 I am a Nutritional Therapy Practitioner focusing on therapeutic diets for disease prevention and management and long-term optimal health. My personal experience surviving breast cancer opened my eyes to the true healing powers of wholesome nutrition. I look at any serious diagnosis as an opportunity to alter the course of one's life. My cancer journey was just that–a life-altering experience rather than a life-threatening one.
The food-health connection
During the course of my treatment, I found an undeniable link between the quality of my diet and the speed and ease of my recovery. My knowledge of cooking native Indian cuisine with liberal use of spices and herbs helped me thrive through the harsh side-effects of my treatment protocols. Combined with naturopathic supplements, nutrient-dense whole foods gave me the ability to wage a stronger fight against cancer. The supplements provided the much-needed nutrients to get back on my feet and regain the strength and energy I needed to live my life with renewed zest.
Sharing food and stories
Being a recipe book junkie, I found myself researching real nutrition and the holistic approach to life after cancer. Inspired by what I had found, I volunteered to cook meals for a support group of cancer survivors and their caregivers. To my (and their) surprise, the group enjoyed the Ayurveda-inspired foods I served. They not only found them comforting but also soothing to their sore and sensitive guts. Over the course of two years of sharing food and survival stories, I learned that my calling was to help others understand how they can to harness the healing powers of fresh, whole, nutrient-dense foods.
Therapy Kitchen By Minal
With new-found passion and purpose, I enrolled in the Nutritional Therapy Association and gained certification as a Nutritional Therapy Practitioner. After a year of clinical experience interning with a senior nutritional therapist specializing in therapeutic diets for cancer, and with guidance from the naturopathic oncologist there, I established Therapy Kitchen. It's my goal to help clients on their cancer journey thrive with proper nutritional support.
You are what you eat
I've developed other nutritional solutions based on the ancient philosophy that gastrointestinal health and proper digestion are the basis of disease and dysfunction that lead to countless other health issues. As a supplement to any treatment modality, Nutritional Therapy can improve short- and long-term outcomes for a wide range of health conditions. I provide therapeutic diets based upon comprehensive individualized health analysis for mood improvement and mental health, cancer recovery, gastrointestinal health issues, and post-treatment nourishment.