NutriClear Plus – A 15 Day Metabolic Cleanse For a Refreshing Healthy Start To The New Year
HAPPY NEW YEAR!
MAY 2019 BE THE YEAR YOU LIVE YOUR MOST VIBRANT AND HEALTHFUL LIFE
It's that time of the year again where you sit back and reflect on the year gone by, to review the choices you are going to make in the new year to help you achieve your career, family and health goals. "Resolutions" has become a dirty little word with many of us struggling to keep up with the promises we make to ourselves. The party is over and with it, it is time to let go of the indulgences of the past few months. Don't you wish you could simply start with a clean slate? Surely you don't want to drag your feet through the new year, burdened with the toxic overload of emotions and diet of the months gone by?
So won't you give yourself an opportunity to live a healthier cleaner life in 2019? Who wouldn't want to live with out brain fog, aches and pains, fatigue and possibly a few pounds lighter?
Let me help you help yourself clean the body and mind to get a fresh start. Sign up for NutriClear Plus 15 day Metabolic Cleanse starting January 7th 2019. This is a gentle detox program that helps eliminate metabolic waste and nourishes the body at a cellular level. Designed with efficacy and convenience in mind NutriClear Plus includes nutrients targeted for digestive, antioxidant and liver support to revitalize the body's detoxification processes.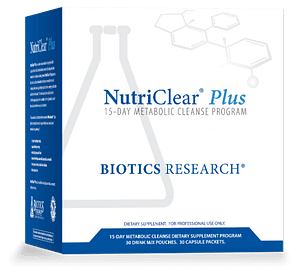 Benefits of NutriClear® Plus
• Supports body's detoxification pathways
• Provides balanced broad spectrum antioxidants and synergists
• Provides nutritional support for bile production and biliary status
• Supports digestive function
• Provides support for healthy inflammatory processes
Addresses the needs of the GI tract
It all comes in a complete box containing :
30 pouches of NutriClear® Plus powder
30 NutriClear® Plus supplement packets, which include 5 capsules supplying the active constituents from: Bromelain Plus CLA™, Beta‐TCP™, Livotrit Plus®, BioProtect™ and MCS‐2™
1 Shaker Cup
1 Guidebook
Before you write this off as yet another weight loss shake let me tell you that no, these are not meal replacement shakes — this a proprietary blend formulated for providing your body with all the nutrients that it needs to function optimally and clear the organs of all the toxins and excess cortisol that make it difficult for you to lose weight, function optimally and create symptoms of brain fog, fatigue and inflammation.
The kit comes with a comprehensive guidebook detailing the ingredients in the shakes and the accompanying supplements. It gives you a long list of foods that you can eat and a smaller one for those to avoid for these 15 days. You may be aware that many foods that we eat regularly are actually the foods that we become sensitive to and often times are the reason for inflammation in our body, impeding our health. Eliminating them for a period of time gives you an opportunity to reduce the symptoms and gauge which foods are the culprits for inflammation or dysfunction .
I will also be providing you with regular email support, answering questions related to your specific reactions and of course what I love most — sharing recipes and dietary recommendations to carry you through the two weeks. Who knows by the end of the two weeks you may never want to eat the same way you did before this plan. I know it made me aware of how inflamed my gut felt after eating gluten containing grains. I also felt more alert, and energetic and my craving for sugary treats and starchy carbs were gone before the end of the 1st week!!! All because my body was getting the nourishment it needed from the protein shakes all the while being supported by the liver clearing supplements and digestion enhancing enzymes.
All this for only $200 — that includes $150 towards the cost of the Cleanse Kit (retails at $159.95) & $50 for email support on meal plans and recipes that I will be providing. Pair up with a friend and get a further 5% discount on the Kit cost. If you do the maths thats $10 for 2 meals a day that you don't need to shop groceries for or plan cooking for. Can it be more convenient? Or reasonable? I don't think so. And I can say with full confidence that this product from Biotics Research Inc comes with highest quality assurance of pure ingredients that are 100% food based and scientifically researched and produced in state of the art facilities in USA.
Sign up by January 3rd in time to get your kit over the weekend. Send me an email on [email protected] to confirm your participation.
Disclaimer: "All information on this website is intended for educational purposes only. I do not claim to treat or diagnose any medical conditions and provide nutritional therapy recommendations only. It is not to be considered a replacement or substitute for professional medical advice and/or treatment. Consult with your own doctor for information and advice on your specific medical condition or questions. I encourage you to provide a list of medications you may be currently on before you start the program"